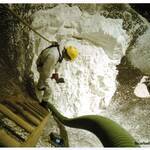 Airload Environmental offer a complete silo cleaning service for square or round silos, bins, hoppers, filters, tanks and ancillary equipment (including handling equipment).
Our staff are trained in confined space entry procedures, safe use of equipment and are fully conversant with health and safety requirements.
Team members receive additional training to use a variety of specialist tools including (where required) gas monitoring equipment, escape sets, working B.A., rescue procedures, emergency first aid, oxygen resuscitation and CPR techniques, aerial platform work, forklift driving etc.
Should additional certification/training be required to meet a clients stipulation this is undertaken before 'onsite works' commence.
Silo entry is gained only by the use of a full working man riding winch system.
Airload Environmental staff not only clean the inside of silos, we also offer a high level cleaning service for industrial builds and structures. Having experience of working at height, using man riding winches, scaffold towers, aerial access platforms and harness work.
Airload Environmental have carried out cleaning projects in the flour milling, food manufacturing and industrial chemical industries for some number of years, gaining invaluable experience in the process.
Whether cleaning roof mounted extraction fans with the use of a cherry picker or cleaning the walls and ledges inside a building housing flour silos using our winch system, or vacuuming high level pipework and ledges in a factory Airload Environmental have the right machine for the job.
Just call our sales team for more info on
01142696788

or email us at info@airload.co.uk